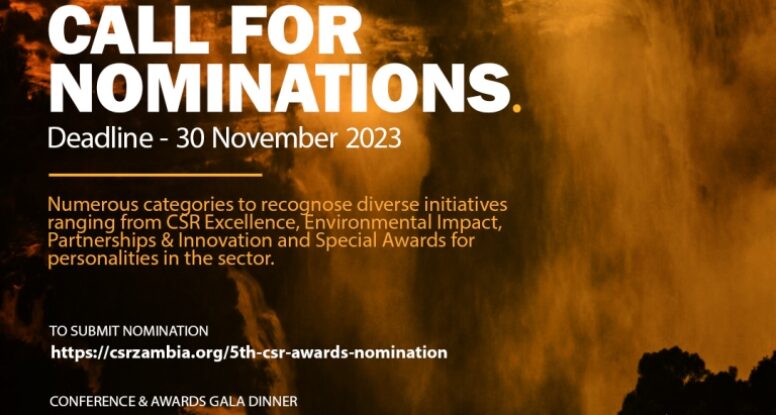 CSRNZ Announces Call for Nominations
CSR Network Zambia is thrilled to announce the official call for nominations for the 5th CSR Awards scheduled for February 2024, in Livingstone, to celebrate and honor the most innovative and impactful CSR initiatives across the nation.
In the dynamic world of CSR and sustainability, it's not just about doing good; it's about doing great! CSR Network Zambia invites organizations of all sizes and sectors to seize a remarkable opportunity to stand out, inspire change and celebrate their outstanding contributions at the 5th CSR Awards.
Nominations are Open from October 16, 2023, to November 30, 2023
Why Should You Nominate Your Organization?
Recognition of Excellence: The 5th CSR Awards are your chance to shine a spotlight on your organization's exceptional CSR initiatives. Gain the recognition your team deserves for making a real difference in your community and the world.
Inspire Positive Change: Your story can be a powerful catalyst for change. By sharing your CSR journey, you inspire others to follow your lead, fostering a culture of responsibility, sustainability, and ethical business practices.
Networking and Collaboration: The 5th CSR Awards bring together a diverse community of CSR and sustainability enthusiasts, including industry leaders, experts, and innovators. It's the perfect platform to connect, collaborate, and build partnerships that can amplify your impact.
Showcase Your Innovation: Whether it's innovative eco-friendly practices, community development projects or cutting-edge sustainability initiatives, the 5th CSR Awards offer a stage to showcase your organization's innovative solutions.
Strengthen Your Brand: Winning or even being nominated for a CSR Award can significantly enhance your brand's reputation. It's a testament to your commitment to making a positive difference, which resonates with customers, partners, and stakeholders.
Align with Global Goals: In an era where sustainability and social responsibility are intertwined with global development goals, the 5th CSR Awards offer a unique platform to align your organization's efforts with these crucial objectives.
How to Nominate:
Visit our website https://csrzambia.org to submit nominations online, access nomination guidelines and register to participate in the events lined-up from 15th to 17th February 2024.
For inquiries, please contact the Programmes Coordinator at awards@csrzambia.org or +260966379369.
It's time to put your organization's CSR achievements in the spotlight, inspire others, and be recognized for your commitment to creating positive change. Don't miss this opportunity to elevate your impact and join a network of like-minded organizations making a difference. Let's continue the journey of making a positive social and environmental impact through CSR, together!