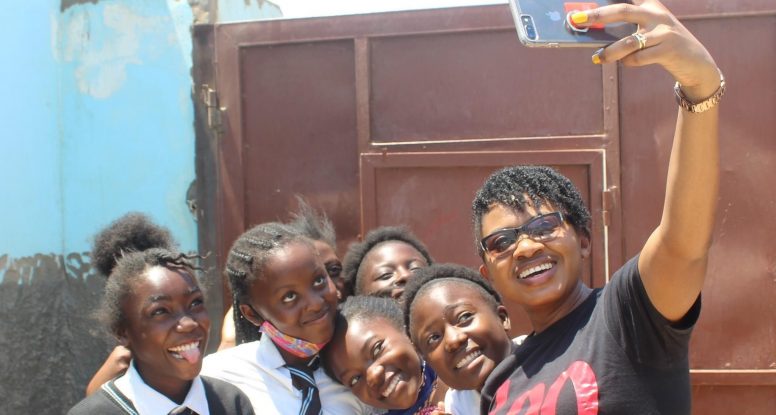 Celebrating Women in CSR – Wezi Njovu
As part of International Women's Month to celebrate the achievements of women, we continue our series to appreciate Women in CSR with another interview of Wezi Muyembe Njovu, the Head Marketing and Corporate Communications at UBA Zambia:
Briefly describe your role and responsibilities, and the number of years you have been CSR practitioner.
In my role as Head Marketing and Corporate Communications at UBA Zambia Limited, I am to ensure projection of the UBA brand as one of the top pan-African institution. My role also involves developing effective communication campaigns, managing stakeholder relations, media relations and network, brand visibility, impactful corporate events/ sponsorships and corporate social responsibility initiatives.
It feels like I have been in CSR since I was a toddler and this is because my mother has always believed in impacting the society through community goodwill.
Tell us about someone or something (mentor, friend, hero, incident) who or that affected or influenced your CSR journey, and how.
My mother, Mrs Tamara Chirembo Muyembe would be the first person who has influenced greatly on my CSR journey. My mother has always believed in changing lives of people in our communities especially women in the rural areas as well as disadvantaged women through different ways like teaching them skills such as knitting, sewing, cooking in order to help them generate income and being a teacher herself, she teaches these women how to read and write.
In my professional career, I would definitely owe my inspiration to the founder of the Tony Elumelu Foundation and UBA Chairman, Mr Tony Elumelu who is a visionary entrepreneur and philanthropist. Mr Elumelu also believes that we all can play a role in our communities in order to better the lives of our people in society.
How has CSR/CSI evolved at your organisation?
CSR has certainly evolved in UBA Zambia to a point that all staff members as well as the UBA Zambia board members have jumped on the bus with great interest and enthusiasm to make a difference in the community. Our main initiative which is the Read Africa Initiative under the UBA Foundation has had staff believe and participate more in the initiative. Read Africa is an initiative of UBA Foundation aimed at rekindling the dwindling reading culture amongst African youths. Our children no longer read; their passion for reading informative and educative books is fast eroding and this is part of the ills we want to correct in the continent's educational sector.​
These children are also distracted and challenged by the presence of electronic social media — Facebook, Twitter, Instagram and others. There are other factors militating against the Zambian educational system as well as Africa as a whole. Having identified the need to curb the trend, especially in response to the declining culture of reading in post primary institutions across the continent, UBAF came up with the 'Read Africa' project, designed to resuscitate the reading culture amongst our youths across the African continent. Conceived and introduced in 2011 by the foundation, the project involves the provision of recommended English literature for junior and senior secondary schools students across Africa.
Can you share a recent accomplishment you are especially proud of?
This will definitely have to be the recognition/award presented to UBA Zambia by the CSR Network Zambia for outstanding achievements in corporate social responsibility and responsible leadership under Education support for the Read Africa Initiative.
Secondly, I would like to make mention that the Corona virus (COVID-19) pandemic has been a global health and societal emergency that has required effective immediate action by governments, businesses and the society at large.
To aid this collective effort and in line with our Corporate Social Responsibility, UBA Zambia partnered with the Government in dealing with this challenge with a donation of K2,650,000 to the Government Of The Republic Of Zambia for Covid-19 relief support.
UBA Zambia remains committed to working with the Government in other spheres of the economy. We have therefore, formed partnerships with different players in the ecosystem including Co-operatives and the Government; we are currently providing payment solutions to over 5,000 women beneficiaries under the Supporting Women Livelihood project by the Ministry of Community Development in partnership with World Bank.
The bank through the Tony Elumelu Entrepreneurship programme has also been supporting young Zambian entrepreneurs by providing them with an opportunity to have access to funding for their start-up businesses. Since 2015, 142 Zambian entrepreneurs have each been given $5000 non-refundable seed capital for their businesses.
If you had the power to make one major change at your company or in your industry, what would it be, in line with CSR?
I wouldn't really say I would like to change anything, instead I would say I would like to enhance and push our current initiatives with focus on the Read Africa initiative in order to have more Zambian schools and youths benefit from this. I would like to see more partnerships among businesses with the goal of improving the lives of our people in various ways possible.
What is the best advice you have ever received in your career?
Believe! Just Believe!
How can CSR activities be used to empower women?
As the saying goes, when you empower a woman, you empower a generation. CSR activities are like gifts that go exactly where they are needed. We need to continue protecting and empowering women by equipping them with skills and offering training, education, counseling, love, medical care and financial literacy. Women can rise from grass to grace, from zero to hero and from nothing to something.
Describe your perfect day.
My perfect day is when I know I have made a positive impact and a difference in another woman's life, and this can be through a positive compliment, encouragement, offering a shoulder, offering guidance and just letting her know that we are on this journey together.