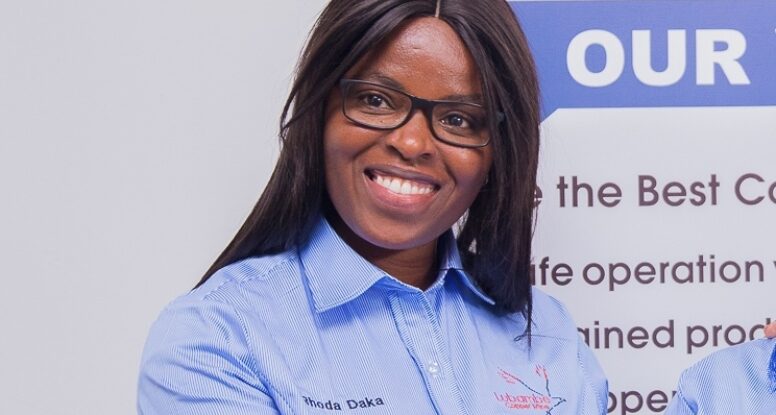 Celebrating Women in CSR – Rhoda Daka
We continue our series of "Celebrating Women in CSR", to celebrate the achievements of women and inspire all of us under the theme "Gender equality today for a sustainable tomorrow", with an interview of Rhoda Daka, the CSR Superintedent from Lubambe Copper Mine.
---
What is your background and how did you get into CSR?
I am a holder of Bachelor of Arts Degree in Social Sciences from the University of Zambia, with 18 years working experience in community related work, 9 years of which I have served the Communities under Lubambe Copper Mine.
I started my work career with an NGO called Zambia Children Education Foundation in 2000 where I was employed as a Community Mobiliser, thereafter I joined Lubambe Copper Mine in 2012 as an Assistant Community Liaison Officer where I served diligently, that by 2014 I was elevated to Community Liaison Officer. In 2016 I was promoted to CSR Superintendent the position I hold to date.
I got into CSR after I reacted to the Job advert in the national newspaper in which the Mine needed the services of an Assistant Community Liaison Officer
What are you passionate about in your work?
I am passionate about helping the disadvantaged attain an improved economic status in life, because I understand what it means to lack basic necessities
Could you share one or two challenges you have experienced in your career around CSR and how you overcame them?
Managing community expectations and Community Over dependency on the mine.
What has been the biggest challenge you faced in your work during COVID19? How did you overcome it?
Failure by Community members to adhere to Covid 19 protocols, eg coming for a meeting without a mask
We moved with masks in our bags to distribute to community members attending meetings without masking up
What can we do to empower more women to come to the CSR forefront and lead the social and/or environmental impact?
Expose more women to empowerment strategies
Educating a girl child and supporting fellow women
Advocating for women colleagues
What is one thing you wish you had been told when you were starting out that you know now?
That a successful CSR must be lady-driven.
What advice would you give to a woman starting her career or involvement in CSR today?
There is no limit to what we can accomplish as woman once we put our mind to it. We are the real architects of our communities. Find something you are passionate about and hold on to it and I can assure you that not even the sky will be the limit!
This International Women's Day, what is the message that you would like to give out to young women who aspire to break the glass ceiling?
My encouragement is that, let us believe in ourselves more. Let us be confident in the decisions that we make. It helps to have a variety of mentors both male and female. Also, as women let us stop competing against each other, let every woman know her worth and be proud of it. Let us create a network of women so that we may encourage and cheer each other on. Let us step out of our comfort zone, promote ourselves and strategies to succeed.