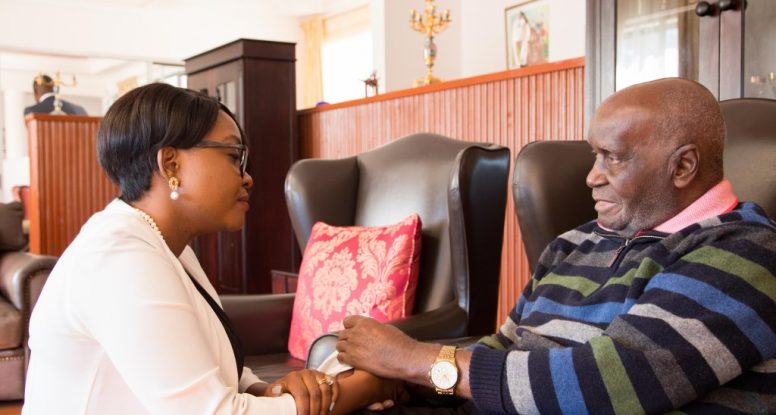 Celebrating Women in CSR – Chanda Chime-Katongo
As part of International Women's Month to celebrate the achievements of women, we continue our series to appreciate Women in CSR with another interview of Chanda Chime-Katongo, the Public Relations, Communication and Women's Banking / Marketing at Stanbic Bank Zambia:
Briefly describe your role and responsibilities, and the number of years you have been CSR practitioner.
In my role, I look after Women's Banking, Reputational Risk Management, Government Relations, Media Relations, Corporate Social Investment, Community Relations, Brand Visibility and Communication in order to achieve the Corporate Affairs strategic goals in line with Bank-wide objectives for Stanbic Bank Zambia Limited.
I have worked in CSR for more than 10 years from my previous employer to my current one. My passion is mainly in community work and changing the lives of those living in densely populated impoverished communities. I have been working with financial inclusion for women for several years mainly focusing on savings groups, financial literacy and entrepreneurial training to upskill women.
Tell us about someone or something (mentor, friend, hero, incident) who or that affected or influenced your CSR journey, and how.
I can't place the influence on my CSR journey on one person. I will place it on the many smiles that I see on people faces when they realize that their lives have just been changed. My influence comes from external stakeholders, such as communities with general expectations of a better life, better health care, better education leading to a better community. My influence also comes from Stanbic Bank staff who are willing to sacrifice their own time and resources in order to volunteer in communities and make a difference. Stanbic staff annually contribute from their pockets towards the Banks CSR projects. The amounts that are raised are then matched by the bank (doubled) and channeled to our CSR projects. In addition to this, every year the Bank invests 1% of its profits to CSR.
How has CSR/CSI evolved at your organization?
The understanding of CSR in the past was just donations. A huge cheque handed over and you are done. But I believe CSR has evolved over the years. At Stanbic Bank, CSR is not just about donations and handouts. Its about getting involved and changing the lives of people living in impoverished communities. The Banks CSR strategy is integrated into how we do business. It guides everything we do, from the services we provide to our clients, to the way we run our bank and support the local communities in which we live and work.
We believe that as Zambia is our home and so it is important that we help to create positive social, economic and environmental impacts in the communities in which we operate. With over 60 years' experience in Zambia, we know the significance of focusing on the long term and we acknowledge that the decisions we make today will determine our tomorrow. While we have a clear strategic path, it is vital that we continue to be agile in responding to changes in the environment and embracing new opportunities and challenges.
Can you share a recent accomplishment you are especially proud of?
One of my recent accomplishments that I am particularly proud about is the launch of the Stanbic Bank Buy-a-Brick Campaign. The Bank partnered with Zambia Homeless, Poor Peoples Federation and Peoples Process on Housing and Poverty in Zambia to launch the project which is aimed at reducing the housing deficit in the country and to support grassroots and vulnerable federation slum dwellers with decent affordable housing across the country. The campaign demonstrates the efficacy of working with organized communities in housing delivery as well as showcases low cost building techniques and other modalities of making housing affordable for the vulnerable. The project which was launched by its Patron, the Republican President HE Edgar Chagwa Lungu – builds upon the success of the 'Stanbic Build' initiative where the bank committed to construct low-cost houses for vulnerable families in Zambia's urban areas. Under this project, the Bank and staff members intend to build 1000 houses in 5 years.
Addressing Zambia's current housing deficit has the potential to boost economic growth because when people are provided with accommodation, they get empowered in more ways than mere protection from the elements.
By investing in decent housing, the urban poor accumulate equity that can then be used as collateral, making them more credit-worthy for accessing finance through formal channels, and generate an income – thus contributing more effectively to national development.
When more people have access to decent housing, society's standing is uplifted, which plays a role in attaining sustainable economic growth for the country.
As a leading financial institution, Stanbic Bank has a responsibility of ensuring we meaningfully facilitate capital redistribution in the economy.
This resonates with our purpose as Stanbic Bank to always make a positive difference in people's lives. And we are confident that if we as the largest bank in Zambia – and our customers – believe we can help vulnerable families find shelter; if we believe in their dream; then it can be reality.
If you had the power to make one major change at your company or in your industry, what would it be, in line with CSR?
The change I would like to implement in line with CSR is to get more organizations involved in partnerships that can have a bigger impact in changing communities for the better. I cannot emphasize enough on the power of partnerships. The world is constantly changing, and so too is the landscape of CSR. The partnership of public, private and governmental entities to focus on a specific issue area is very critical and beneficial to those in need.  Now more than ever, partners are leaning on their expertise and innovation, and not just philanthropy, to solve problems.
Stanbic Bank understands the power of partnerships. In 2016 the bank launched a campaign to build mothers' shelters at various rural health posts across the country over a five-year period to help alleviate maternal and child mortality while promoting good health among women in rural areas. Now the bank is not an expert in maternal health and child mortality, but we saw the need to reduce the rate of maternal mortality especially in rural areas if we are to achieve maternal mortality targets in line with the Sustainable Development Goal (SDG) number 3.
The bank-funded project is worth a total of US$280,000 and matches the objectives of its implementing partners who are the Churches Health Association of Zambia and the USAID – Saving Mothers, Giving Life Initiative, who also seek to reduce maternal and newborn mortality in Zambia. This partnership has seen 3 mothers' shelters being built so far in Mazabuka, Southern Province, Chinunda District in Chipata and at Kabwe Mine Hospital in Central Province.
That is the power of partnerships and this one is just one of the many partnerships that the Bank has embarked on.
What is the best advice you have ever received in your career?
One of the things I enjoy best about working in the field of CSR is that I encounter people with a wide diversity of backgrounds and expertise. Some come from a traditional business background, some are government officials and others come from the NGO or international development world. This variety in backgrounds and interests makes for some very thought-provoking discussions and leads to innovative partnerships and projects.
It was during these discussions that I got the best CSR advice in my career so far. The advice was that an organization needs to be constantly agile in its CSR space. Even the best laid plans for CSR may require altering. To be sustainable, your CSR work needs to be flexible. This could include adjusting budgets, redirecting investments of time, and quickly identifying trusted nonprofit partners to launch new programs or adjust existing ones. At the start of the COVID-19 pandemic several organizations, including Stanbic Bank, had to re-adjust their CSR plans and budgets to join the fight against the pandemic. By being adaptive with our CSR, our programs have remained relevant and timely.
How can CSR activities be used to empower women?
A key challenge to women's empowerment globally is the unequal distribution of resources. The lack of access to education, economic opportunities and financial inclusion all threaten women in their efforts to become empowered.
Increased educational attainment from women is key for ensuring greater economic growth. At Stanbic Bank, we believe that education CSR Projects for young girls is critical. It is for this reason that we have partnered with numerous organizations to ensure that girls are in schools. Through its multiple CSR projects, the Bank has built schools, implemented mentorship programs and introduced scholarships all in its quest to ensure that girls are educated.
The gender gap in access to financial services further restricts women in their efforts to be economically empowered and financially included. According to the Bank of Zambia National Financial Inclusion Strategy women remain modestly more financially excluded than men, however, there is evidence that the gap is narrowing. Financial inclusion among women increased from 34 percent in 2009 to 57 percent in 2015, yet these overall figures mask important differences in the type and quality of financial services used by different genders. Most notably, men are significantly more likely than women to use bank services, electronic payments, and formal sources of borrowing; while women are significantly more likely to use informal savings groups such as Village Banking. This demonstrates that significant progress is yet to be made to ensure that women have equal access to and use of regulated financial products and services. To ensure this is achieved, Stanbic Bank through its Anakazi Banking initiative, has formalized Village Banking to ensure funds are tracked through the banking system. This process has also included financial education and training for women through CSR projects to ensure women are financially included.
Describe your perfect day.
A day for me is perfect when I can help better someone's life. There is nothing as gratifying as helping others achieve beyond their dreams. Stanbic Bank aims to create a robust, resilient and sustainable business in which our clients can have confidence, our communities can trust, and our other stakeholders can take pride. Our continuing success in this endeavor depends, in part, on our ability to identify and address social and ethical factors which present risks to our business or offer opportunities to support our stakeholders in a more sustainable way. These can affect our reputation, drive employee engagement, and help manage risks of lending, leverage savings and secure new revenue streams. The broader role we play as a bank in our communities and with our stakeholders reinforces this trust and confidence.
What differentiates us from other banks in Zambia is that Zambia is our home and we drive her growth. This growth includes the difference we make in the communities we operate in: the children we educate in the schools we build; the small businesses we invest in; the lives saved in the hospitals we support. A perfect day for me is when we work together to change lives by not only adding value to individuals and communities, but by also ensuring that the changes we make are sustainable to these communities.