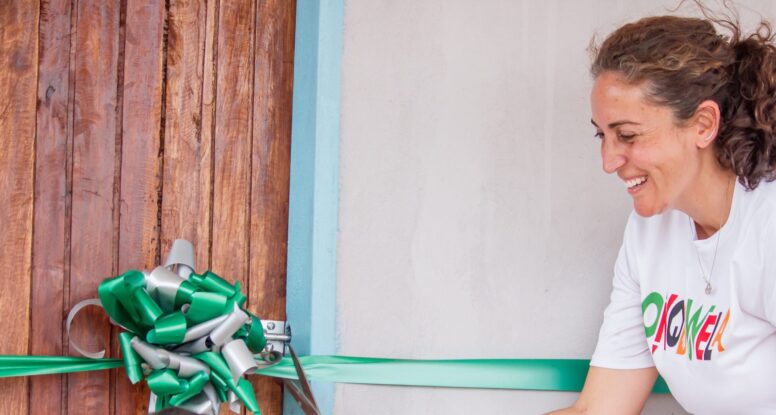 Celebrating Women in CSR – Amanda Frankel
As part of International Women's Month to celebrate the achievements of women and inspire all of us under the theme "Gender equality today for a sustainable tomorrow", we kickstart the 2022 series of interviews with Amanda Frankel,  founder of Okodwela, an organisation that is providing housing, education, and clean water to communities in Livingstone.
---
What is your background and how did you get into CSR?
I previously worked with domestic violence, sexual assault, and human trafficking survivors for the 10 years and hold a master's degree in Forensic Psychology. I have also traveled to 20+ countries for personal, educational, and career related experiences. I have also had an interest in providing assistance to enhance human welfare and in 2019, discovered additional happiness in taking it to a global level by forming the American not-for-profit organization, Okodwela, serving Livingstone, Zambia and then in 2021 the NGO, Okodwela Zambia.
What are you passionate about in your work?
I am truly passionate about enhancing human welfare and happiness. Through my extensive time spent with vulnerable populations and communities, I've discovered that happiness starts at home. That safe homes, clean water, economic stability, and education can provide the basis for a happy life and these components provide for an overall happy home. Through my work, I seek to enhance happy, thriving communities.
Could you share one or two challenges you have experienced in your career around CSR and how you overcame them?
One of the biggest challenges I have experienced throughout my career would be finding continuous funding to sustain Okodwela's projects of building secure homes, supporting education, and creating employment opportunities. To overcome this on-going challenge, I continue to network around the world and within our community to find new, innovate ways to fundraise. By finding like-minded individuals, companies, etc. that find alliance in our mission, helps to provide support for our projects. I also try to create and involve community members in helping to create programs to teach skills, train, and employ them in various entrepreneurship opportunities to not only receive income for themselves, but to generate income for additional projects within the organization. This method not only contributes to sustainability of the organization, but promotes empowerment of those involved.
What has been the biggest challenge you faced in your work during COVID19? How did you overcome it?
The last two years have been the most challenging in terms of funding for resources to sustain Okodwela Zambia's projects, as the entire world has been affected by the pandemic of COVID19. When schools were closed, some of the most difficult times were to see the children and adult students continue to express their strong desire to continue to learn. Through the power of community, we came together to find creative ways to continue educating the students outside of the classroom to ensure a minimal gap in their education. This was made possible through the community and various supporters of other CSR members.
What can we do to empower more women to come to the CSR forefront and lead the social and/or environmental impact?
We as women need to continue to remind not only ourselves, but each other, that we too have a place at the table. That our voices, our ideas, our input is just as valuable as the next. We should continue to push forward and never accept no for an answer. Continue to utilize our compassion, empathy, knowledge, and experience, amongst many other qualities we possess to make impact in the community.
What is one thing you wish you had been told when you were starting out that you know now?
"Your intentions may not always be seen for what they truly are." This may have been the single hardest lesson I have learned and still am learning today. I believe my intentions are pure…to create happy homes, provide support where needed, and enhance human welfare. Unfortunately, there have been situations in the past where others have mistreated opportunities to do such in the field which has then left a negative stereotype for those with pure intentions to do good. I do not let this stop me from continuing my work, yet I do allow it to drive me to work harder and continue to be my authentic self.
What advice would you give to a woman starting her career or involvement in CSR today?
No matter what project or career you are starting, educate yourself as best as possible. IF its working with a community, get to the know the community. Spend time with its members, what it's like to live a day in their shoes. Don't speak for anyone, yet speak alongside them. Empower the vulnerable to stand alongside you, not behind you.
This International Women's Day, what is the message that you would like to give out to young women who aspire to break the glass ceiling?
Follow your passion. Follow your heart. Follow your gut. For every no you are told, try again 5 more times and more. All it takes is one yes to change everything!